Representatives from Kubotek Kosmos (Massachusetts, USA) and it's Central European distributor ES-Tek (Vincenza, Italy) staffed an expo stand at the Hannover Messe 2023 event from April 17-21 at the enormous fairgrounds in Hannover, Germany. The area of the grounds where we were located, Hall 17, was filled with software and additive manufacturing technology vendors from around the globe. Notable among the exhibitors in this area were large pavilions by Google and Microsoft, brands not commonly associated with manufacturing, the presence of which reflect the continuation of new technologies becoming integrated with this field.
Our First Time Exhibiting at Hannover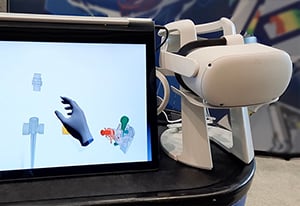 There was significant interest in the 3D Framework from other exhibitors as well as numerous attendees interested in KeyCreator and our CAD file interoperability software. We were also able to meet with long-time KeyCreator resellers Zenex from Finland, KeyToData from Germany, and Vlecad from Belgium at the event. A prototype/sample lightweight virtual reality application built with our component technology and capable of running on the popular Meta Oculus headset attracted similar attention as it did at its debut at IMTS in Chicago. With the continued expansion of our 3D Framework's capabilities, as noted in the recent release of the 5.0 version, we hope to inspire in other software and hardware developers a new sense of how complex 3D data can be put to work in platforms or settings not possible with previous generation technologies.
Presentation on Digital Twin Usage and International Standards Collaboration
Dr. Fumihiko Kimura, Kubotek Corporation Board Member and University of Tokyo Professor Emeritus, presented on the Industry 4.0 Conference Stage regarding standards committee collaboration between Japanese and German groups. The presentation entitled Digital Twin Usage and Standardization Toward Environmental Sustainability in Product Life Cycle covers the role of the digital twin in supporting environmental sustainability and the importance of collaboration to achieve semantic interoperability across domains. The teams studied the complex bi-directional nature of model to object relationships across the full life of a product from idea, to manufacturing, through to maintenance and eventual recycling. These standards are being proposed as part of European ecodesign requirements to aid in efficient manufacturing and realization of environmental goals.