Efficient & Agile CAD Tools for Manufacturing
MARLBOROUGH, MA—November 27, 2019— Kubotek3D, a leading supply chain software provider, today announced the availability of a new major release of KeyCreator 3D CAD software. The 2020 version provides significant productivity improvements to many commonly used functions and updates to numerous CAD translators.
Productivity Improvements
"We focused our development process for 2020 on improvements to KeyCreator that would reach everyone," stated John Wright McCullough, GM Marketing, Kubotek3D.
Selection features which are used throughout the product from assembly management to drawings have been expanded to save steps but not interfere with established workflows. The time saved and productive feel of these small improvements really add up because they are used all day long. For example, drawing of a selection window now dynamically highlights the entities to be selected in real time and can be used in all-in or cross-select (part-in) modes based on window draw direction which saves several button-clicks.
React rapidly to unexpected changes
KeyCreator Pro 2020 continues the trend of adding DynaHandle support to functions to enable intuitive moving of entities along axes, either by dragging or entering offset values. For File Import, Paste (from Cut/Copy), and Insert Part Reference functions the new DynaHandle support provides the option for simple movement of the new entities after they have been placed. For the popular Box Move capabilities and Edit Blend adding DynaHandles delivers the ability to edit by dragging the cursor.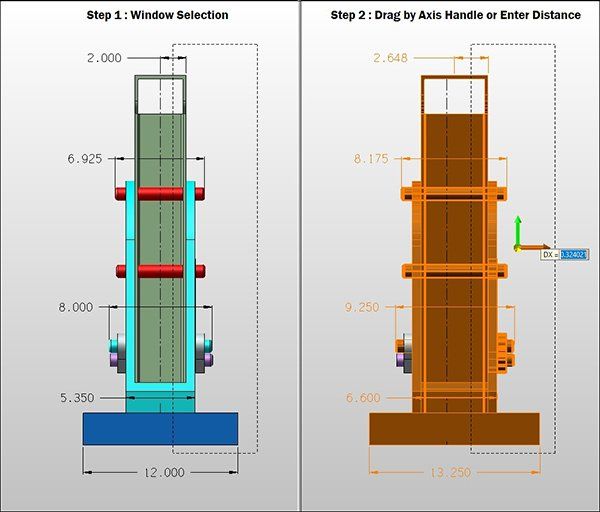 New Stretch function in 2020 adds dynamic simultaneous move capabilities for complex sets of entities and faces
Quickly build precise models
To improve KeyCreator's 3D sketching power, the dynamic mode of the commonly used primitive solid functions has been re-written to match the workflow of the traditional curve functions (ie. create line by endpoints). This means that when the third cursor location has been specified to set the height of a block or cylinder the solid is immediately stored in the part database. The new solid also changes to the active system color to provide the user feedback of that state. DynaHandles remain active on the new solid until the function is ended to allow for further editing if needed.
Updated CAD Translators
A new CAD file import translator for Industry Foundation Classes (IFC) files has been added in the 2020 release. The IFC format is an ISO standard data format used for Building Information Modeling (BIM) data, including assemblies, solids, and meshes.
Additionally, interoperability with other CAD software has been updated with the latest versions of 4 major CAD file formats:
⦁ Autodesk Inventor 2020
⦁ Dassault CATIA V5 R29 (R2019)
⦁ PTC Creo 6.0
⦁ Siemens NX 1847 (and drawings up to 1184)
About Kubotek3D
Kubotek3D empowers the supply chain with the right design information by delivering core precision 3D technologies and easy-to-use software products. This strategy allows geometry, no matter where it originated, to be used to speed time to market, reduce costs and improve quality. Kubotek3D is a division of Kubotek USA, Inc., a wholly owned subsidiary of Kubotek Corporation (7709.T Tokyo Stock Exchange). Kubotek Corporation was founded in 1979 and is headquartered in Osaka, Japan. For more information see www.kubotek3d.com.
Kubotek and KeyCreator are trademarks of Kubotek Corporation
###