Enable Absolute Clarity in Engineering Changes
MARLBOROUGH, MA—September 24, 2019— Kubotek3D, a leading supply chain software provider, today announced the K-Compare Revision program, a new stand-alone CAD model comparison software built on the universal CAD architecture of the Kubotek Kosmos 3D framework. The new program assures effective communication during the critical hand-off of engineering changes between product design and manufacturing.
K-Compare Revision software enables its users to:
Identify all changes to the model and data
Communicate detailed understanding of changes to all stakeholders
Handle design files from any major source
Quickly create complete reports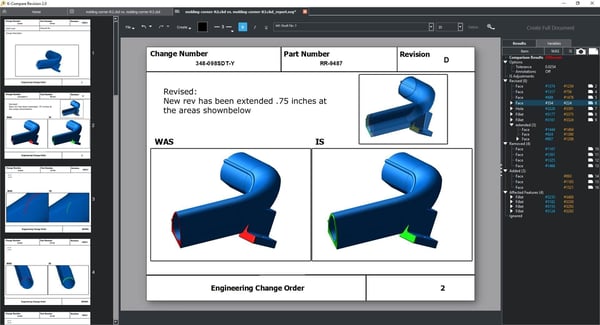 "Confidently identifying all the differences between two versions of a CAD model is the first of several valuable benefits of K-Compare Revision," says Andre Beaupre, General Manager of Sales and Support at Kubotek3D. "Our customers also need to be able to do this comparison with all different types of CAD files and quickly create detailed reports to clearly communicate the change."
K-Compare Revision replaces Kubotek ECO Manager, introduced in 2010. The new K-Compare Revision product provides a streamlined user interface and significantly faster operation over its predecessor. K-Compare Revision is the second product released under the K-Compare brand alongside K-Compare Validate, its sister product for checking model translation in the aerospace industry.
Kubotek3D will be demonstrating the K-Compare Revision software tomorrow at an open house event at its headquarters and the Design2Part show, both in Marlborough, MA. The first version of the software is expected to be released for download by the end of October.
About Kubotek3D
Kubotek3D empowers the supply chain with the right design information by delivering core precision 3D technologies and easy-to-use software products. This strategy allows geometry, no matter where it originated, to be used to speed time to market, reduce costs and improve quality. Kubotek3D is a division of Kubotek USA, Inc., a wholly owned subsidiary of Kubotek Corporation (7709.T Tokyo Stock Exchange). Kubotek Corporation was founded in 1979 and is headquartered in Osaka, Japan. For more information see www.kubotek3d.com.
Kubotek and K-Compare are trademarks of Kubotek Corporation
###