It was exciting to be a part of IMTS 2022 in Chicago! After the COVID-required pause in the show, it had been four years since we have seen so many partners and peers from across the manufacturing industry all in one place.
In particular, we were excited to be showcasing our 3D Framework, a proprietary modeling kernel that we have begun licensing out to other software and 3D application developers. The Kubotek Kosmos 3D Framework features variable precision, allowing for use of models ranging in size from the planet Jupiter down to a molecular scale. The efficient code library file size significantly reduces the memory footprint of applications; this allows the Kubotek Kosmos 3D Framework to be suitable for development on mobile devices.
A 3D Framework For The Future of Manufacturing
As a demonstration of the 3D framework's robust efficiency, we had a proof-of-concept demonstration of a VR app, simulating parts assembly or training. We thank Design World magazine for choosing this aspect of our IMTS presence to be featured on their video series "Inside Look."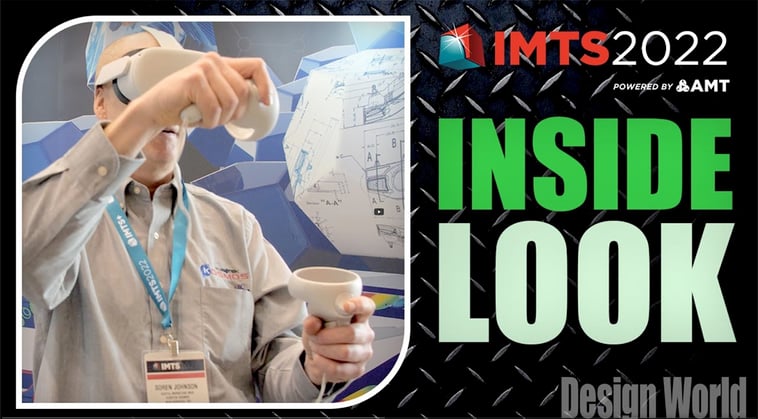 Although this was just a proof-of-concept application developed for demonstration purposes, it was still a meaningful step toward bringing our framework's full potential to the attention of the manufacturing space. One reason it felt particularly meaningful to us is that we first announced our decision to make our kernel available for license at IMTS 2018, under the name Kosmos. (You can read more about our name change in our Company News.)
At Work In Applications Available Now
While we do not currently have a VR application in development for manufacturers, the Kosmos 3D Framework is hard at work in two of our applications for the industry, K-Compare and K-Revision. These applications have the versatility to read models from virtually any CAD platform, allowing users to assess file versions and ensure that changes and revisions are correctly documented, with no data lost during the translation process of moving between one CAD file format and another, or one version of a model and another.
Bringing new applications to market with our 3D Framework — whether they are released by us or by one of our partners — is a core focus of our company. This VR demonstration at IMTS was just the beginning: stay tuned!