KeyCreator is ranked at #1 of the Top 10 Easiest to Use along with other Awards


KeyCreator 3D CAD was recently recognized for strong customer reviews in the G2 Product and Machine Design Software Report.
These awards are particularly meaningful to us because they are based on input, ratings, and reviews from designers and engineers who use KeyCreator every day.
KeyCreator is ranked at #1 of the Top 10 Easiest to Use and #3 Top 20 Highest Rated Product and Machine Design Software, with an overall satisfaction rating of 93%. The G2 Spring 2021 rankings reveal that KeyCreator scores higher in "Ease of Use" and "Meets Requirements" than any other products in the report.
We appreciate that this level of loyalty is hard-won and thank our customers for taking part in the larger CAD software dialogue. These awards, along with an overall user rating of 4.5 out of 5 stars, certainly make the team behind KeyCreator proud, but it's the personal reviews from the front lines of the design world that mean the most. To read our reviews from verified KeyCreator users, to see how KeyCreator stacks up against other CAD programs, or to submit a review of your own, visit the G2 KeyCreator page.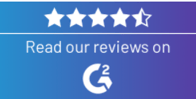 About G2
G2, the world's leading business solution review platform, leverages more than 1,000,000 user reviews to drive better purchasing decisions. Business professionals, buyers, investors, and analysts use the site to compare and select the best software and services based on peer reviews and synthesized social data. Every month, more than five million people visit G2's site to gain unique insights.