Circle 5 Tool & Mold can now quickly create comprehensive custom reports of differences between any two versions of CAD models with Kubotek K-Compare Revision
By Jeffrey Rowe
Has a complex product ever been designed without any changes made during the development process? The answer is a resounding "NO!"
From the beginning, engineering change orders (ECOs) and resulting design revisions have been prone to errors (and fraught with problems) because of the methods used to address and resolve them. That is, until now with Kubotek K-Compare Revision software.
Circle 5 Tool & Mold, one of the early adopters of K-Compare Revision, is a world class supplier of injection molds, primarily serving the automotive and medical industries, building high-volume steel and aluminum molds that range from 50-2500 Tons. From its inception in 1987, the company has been committed to being on the cutting edge of technology and a leader in injection molding solutions for the 21st century.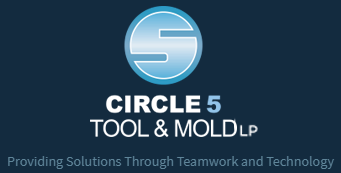 Lise Kennette, Engineering Manager, Circle 5 Tool & Mold, was instrumental in evaluating K-Compare Revision at the company. Kennette said managing ECOs properly the first time is critical. Miscommunicated design changes often result in losses such as missed deadlines, re-work, and scrap, which can be devastating to any company. This need for minimizing or eliminating ECO problems was the primary motivator for Circle 5 implementing K-Compare Revision.
What is K-Compare Revision?
Kubotek's K-Compare Revision is an advanced yet easy-to-use tool for effectively communicating design changes to stakeholders, who then understand exactly what has changed in a design as it evolves throughout the product development process. Simply put, K-Compare Revision reads pairs of 3D CAD files (parts, assemblies, and PMI data), compares them, and creates a report.
Knowing that design changes are inevitable, K-Compare Revision quickly identifies and documents these changes and becomes a seamless part of a workflow. The software identifies design changes between two models and automatically generates reports with no need to depend on manual visual inspection of model overlays or time-consuming cutting and pasting into PowerPoint. The reports are easily customized, creating quick, clear documents for managing internal in-process design changes or customer-facing communications that can lend seamless collaboration.
Most CAD products have a rudimentary compare feature, but Kubotek realized there had to be a better way and the result was K-Compare Revision.
Just three steps are required for creating clear 3D engineering change reports with K-Compare Revision:
Step 1: Compare Files
K-Compare Revision works with all major CAD formats for easily finding differences when comparing two CAD files. Fast, complete comparison is based on geometric pattern matching between faces using Kubotek's proprietary multi-threaded technology.
K-Compare Revision Steps
Step 2: Organize Changes
Feature/face difference results are managed using a simple tree interface. The clearest user-defined view orientation and zoom level to illustrate a difference can be linked to differences in the tree. The newest version of K-Compare Revision (2.1) automates grouping of features. This capability provides significant time savings. For example, selectively binding all difference faces in a pocket together into a single difference.
Step 3: Create Report
The built-in reporting tool generates reports with one button click with the option to use customized templates to match company or customer conventions. Users have complete control of 3D views included on each report page and have options to add explanatory annotations and geometric measurements. The report file is saved in industry standard SVG format which can be viewed in any browser or exported to PDF.
These custom reports can be created to share with internal team members or external parties, such as suppliers or customers and all intellectual property (IP) is protected. These reports could become increasingly relevant as "work from home" becomes the new normal.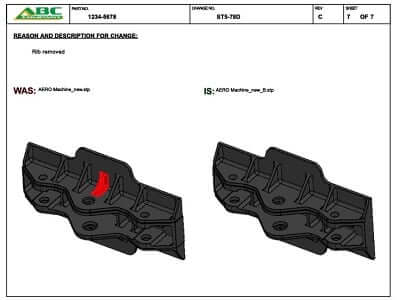 K-Compare Revision Report Illustrating Design Before and After Change


Depending on needs, K-Compare Revision is available at three tiers/levels and corresponding costs per month based on CAD data formats that can be compared. Each tier/level includes compelling design data comparison and reporting capabilities that include advanced geometric comparison, assembly comparison, PMI and user annotations, 3D views, and change report documents.


The Old Method and the Need for Change
What initially prompted Circle 5 to consider and evaluate an alternative tool for ECOs and revisions was actually quite simple. Kennette said, "At Circle 5 we're constantly looking for ways to improve and I had received an email about K‑Compare which started my initial research to find a tool to help our outdated ECO process. Before K‑Compare, Circle 5 was using the traditional way of just overlaying the data, turning the old data red and the new data blue and visually checking for differences and creating PowerPoints to show the differences. Circle 5's previous ECO/revision communication method was PowerPoints through email".
Circle 5 knows how critical it is to manage the ECO properly the first time. Kennette said, "We're aware it's a risk every time we do part overlays manually".
The company did explore other potential solutions, but Kennette explained, "Honestly, nothing else out there achieves the accuracy and consistency level of K-Compare Revision. Admittedly, just about every CAD software has some sort of compare capability, but not robust and accurate enough. Although most CAD systems have a rudimentary capability to compare different CAD model versions, they lack a way for effectively analyzing and presenting precisely what the differences are".
"K-Compare Revision takes into account tolerance differences into consideration. With K-Compare Revision, the comparison is definitively black and white, not gray".
Superior presentation of results was not just about the report. She likes the side-by-side aspect of the comparison – what has changed and what has not.
Kennette has found that running comparisons and generating reports can be accomplished in a fraction of the time than was previously possible – big time saver. The ability to clearly present comparison results to customers ensures that changes they want are reflected and confirmed.
Currently, program managers and designers do this work with K-Compare Revision. Quoting/estimating personnel may also find K-Compare a valuable tool when performing their duties.
In house, Circle 5 translates customer design data for creating injection molds from sources that include CATIA, NX, and STEP.
Early Realized Benefits
Circle 5's business has evolved to adapt to customer's needs with a more integrated value stream and the company will continue to evolve to meet those needs.
For example, customers ask, "Is this part moldable, is it feasible?" Circle 5 works very closely with its customers throughout the entire process and sign-off.
The company helps in decision making through a true collaborative partnership with what works and what doesn't, mutually coming up with a solution.
The sheer amount data that Circle 5 has to deal with and engineering changes and feasibilities is what prompted the ultimate buying decision.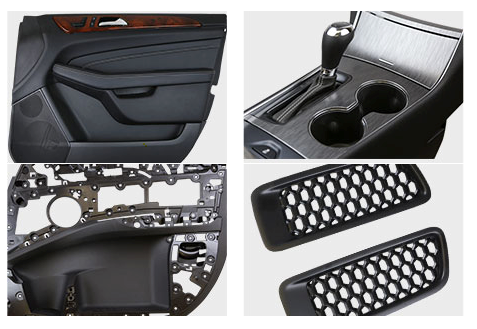 Representative Automotive Parts Produced with Circle 5 Injection Molds
We are constantly trying to eliminate potential risk and K-Compare Revision is expected to minimize our risk. It's really a risk/reward proposition that we looked at".
Because every tool has at least some engineering changes, Circle 5 perpetually deals with a lot of revisions, an industry-wide fact of life.
Even though it is early in the game, Circle 5 is already reaping benefits with revision reporting and presentation.
Kennette and her staff like the ease of use and dimensioning capability of K-Compare Revision, and that reports clearly show changes. "We get clear cut information that we can give to our customers at a very fast pace with relatively little effort compared to what we did previously. Using overlays and PowerPoint used to take hours, whereas K-Compare Revision takes a fraction of the time with better results".
Looking Ahead to the Future
In the future, Circle 5 is planning for the possibility of engaging customers and suppliers with K-Compare Revision if the opportunity presents itself as their experience evolves.
Kennette summed things by saying, "We've been excited with the results we've achieved with K-Compare Revision and would like to engage customers to use it in the future, and see it possibly being used as a collaborative tool".
Although it's still early in the process, K-Compare Revision has benefitted Circle 5 by minimizing ECO miscommunications when designing and manufacturing injection molds, as well as meet demanding production deadlines with minimal time and material wasted.
In the end, it's all about communication, and that is the main strength and asset of K-Compare Revision – technology-driven communication that promotes product quality improvement.
For More Information and to Download a Trial Version: Kubotek K-Compare Revision