Despite the tranquil landscapes encountered in agrarian regions, the reality of the modern agriculture sector includes the same pressures for efficiency and optimized output as any other part of the twenty-first century economy.
The production of commodities like wheat, barley, and a variety of legumes may originate in less populated, out-of-the way places, but they are part of a global trade in the billions of dollars.
"KeyCreator is used in many areas of what I do for this company," says Christian Hille of The McGregor Company.
To stay competitive in this setting, businesses must rely on tools that meet the needs for productivity while also being practical to put in use. The McGregor Company, a privately owned business headquartered outside Colfax, Washington, provides fertilizer, herbicides, and equipment for the agricultural sector in one of the United States' most productive regions, the inland Northwest. This region includes mid to Eastern Washington, North Idaho, and mid to Northeastern Oregon. As part of their scale of operation, KeyCreator is one of those tools.
The casual traveler passing through farming areas may only see a wheat field and have no grasp of the innovation and dedication that underlies it. For example, in just the state of Washington, "the wheat industry annually contributes from $650 million to nearly $1 billion in production value to the state's economy. Adding indirect output has raised the total economic value of the wheat industry to nearly $2.3 billion in some years."
To help it and its customers stay abreast of this global industry, not only does The McGregor Company run an award-winning Research Farm through its Research & Technology Division to test new seeding and fertilizing applications, it also has its own Equipment Manufacturing Division, where it designs and manufactures the equipment crop producers rely on to maximize their yield.
"We have our own Equipment Manufacturing Facility where we design and build our own fertilizer applicators and sprayers."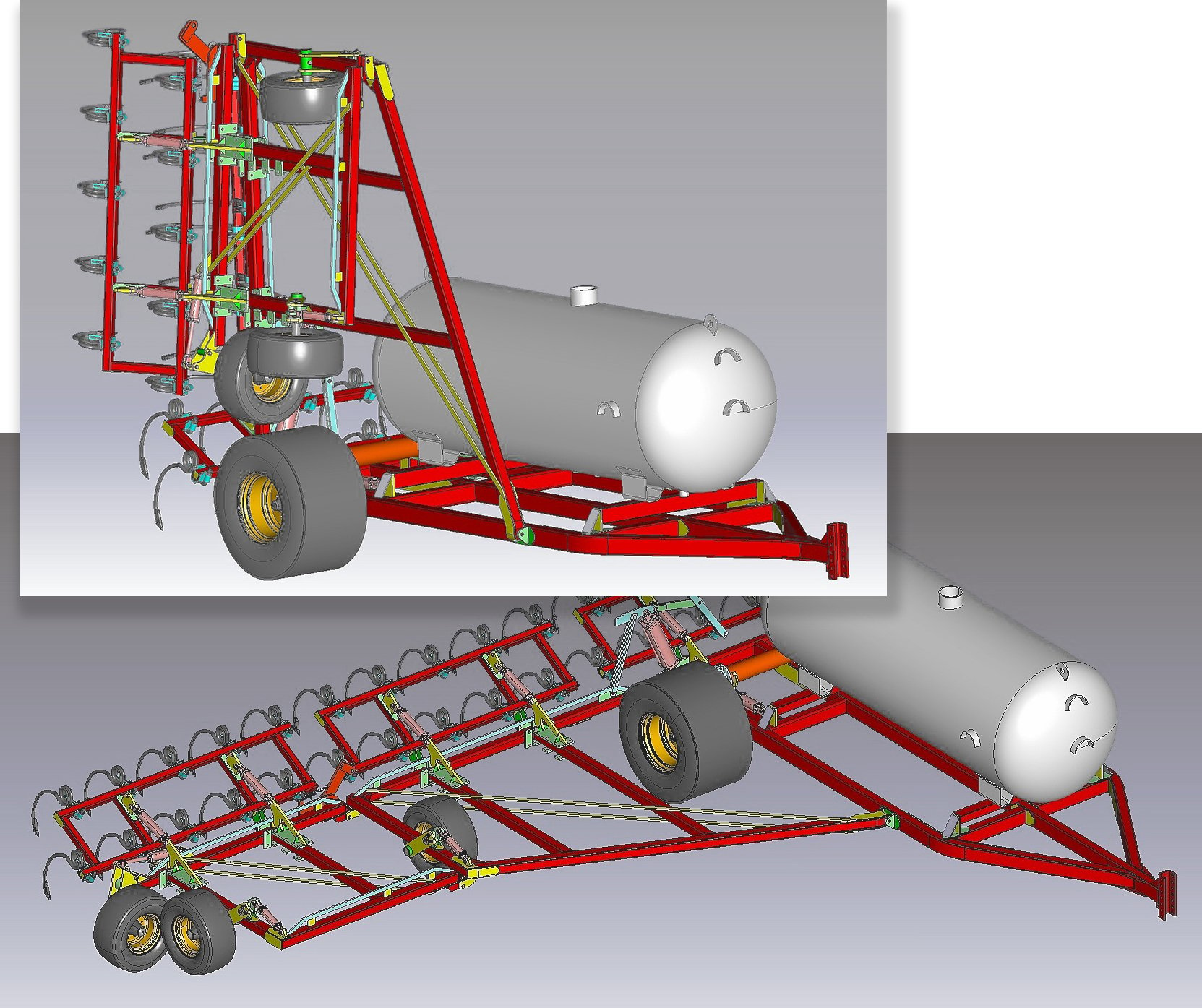 KeyCreator's precise solid modeling, visualization/animation, and collision detection capabilities are all critical for the design of the complex folding action of McGregor's trademark 1500-gallon "Ripper-Shooter®", shown here in both configurations.
For more than sixty years, the McGregor Equipment Manufacturing Division has primarily designed and built fertilizer equipment for a geographically-broad market, serving 48 agriculturally based communities across three states from 30+ retail locations. And while to the outsider it may seem like seeds are seeds, the reality is that a golf course has very different requirements for seeding than an ag business helping to produce tons of barley. KeyCreator helps the Equipment Division serve its long-time customers as well as innovate in order to meet changing demands and serve different ag sectors.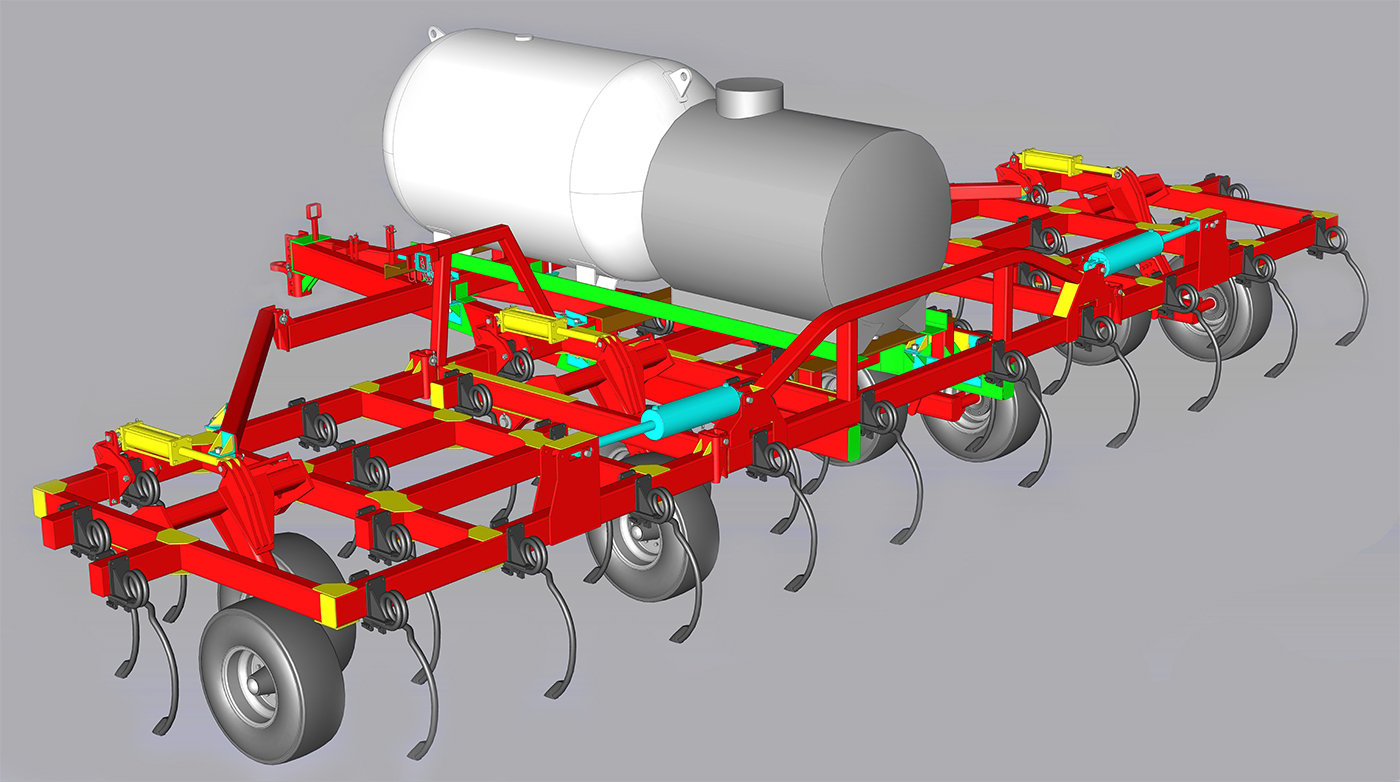 The McGregor "StrawBoss" is equipped with a 650-gallon anhydrous ammonia tank and a 500-gallon solution tank. It is engineered for liquid fertilizer application on unplowed fields of heavy straw and/or hard soil conditions.
While the average homeowner likely thinks of spreading fertilizer as a casual weekend chore, the reality is it is serious business. In modern agriculture, there are a host of factors and variables to be considered, from terrain to crop maturity to soil conditions to seasonal weather. KeyCreator's fast direct modeling allows The McGregor Company to evaluate and revise its designs as it caters to different markets and end-users, such as the smaller equipment called for on a golf green versus working fields alongside a 20-ton combine harvester.
"In the aspect of our retail branches, [KeyCreator] is also used for survey results to design or modify the landscape for future structures and truck and semi loading."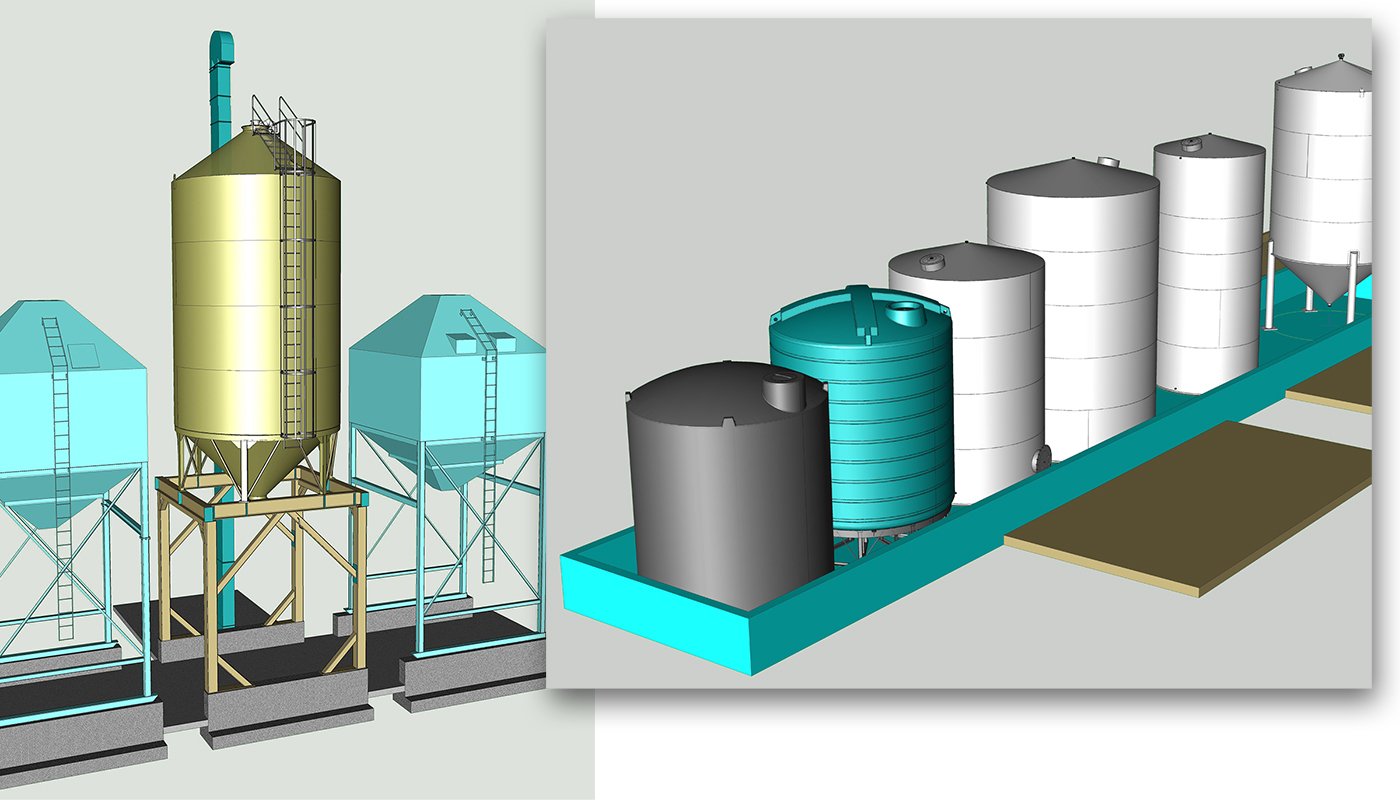 KeyCreator has the versatility to enable users to make fast work of designs as large as the scale of a building or as detailed as an individual spray nozzle. These models depict dry fertilizer storage and unloading (left) and liquid fertilizer storage & secondary containment with loading/unloading concrete truck slabs (right).

Helping to design and evaluate the equipment to spread seed and fertilizer is just one of the ways the The McGregor Company puts KeyCreator to use. With retail offices in more than 35 communities and a business model in which a customer order might literally mean tons of product, Chris also has needs to devise loading and storage facilities customized to the usage and needs of that specific location.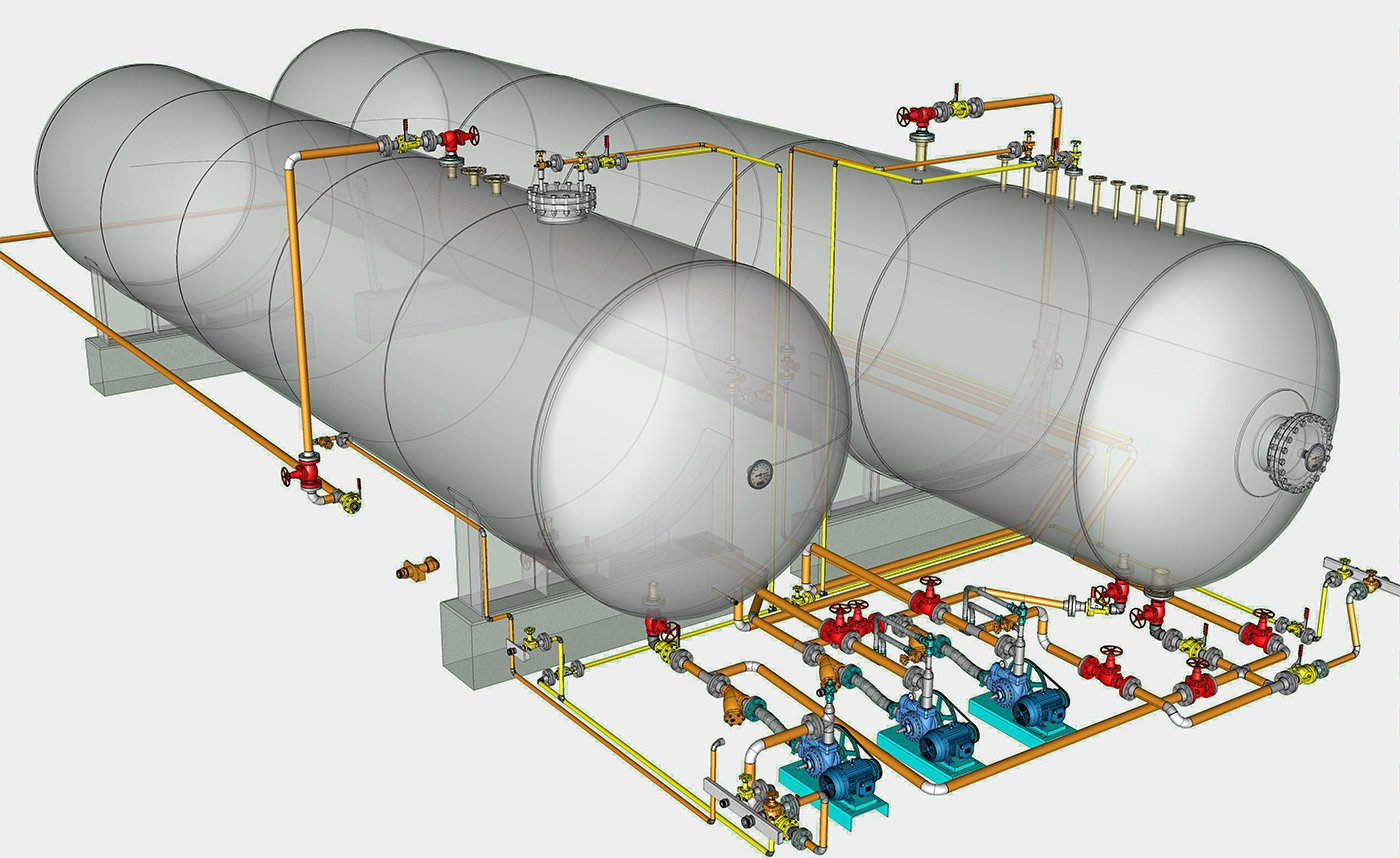 These 30,000 and 40,000 gallon tanks hold anhydrous ammonia at one McGregor facility that Mr. Hille manages.
The McGregor Company has been operating for more than 130 years, yet with its Research & Technology Station in Colfax, Washington, and its continued development of top-performing ag equipment, it maintains a spirit of innovation and progress. From the very beginning, this spirit of possibility has been at the heart of KeyCreator. We celebrate Christian Hille and all those like him who choose their tools based on how well they bring new ideas forward, unconstrained.