"KeyCreator's flexibility makes it simple for us to come up with a concept and present it to our customers. We can quickly run the design through several iterations, incorporating the customer's input, as well as our own ideas." - Gregory Jensen, President of Jenco Metal Products
Jenco Metal Products of Mt. Prospect, Illinois provides manufacturing solutions such as automation, assembly test and inspection machines, assembly fixtures, components for automation, components for tooling, prototypes, progressive dies, and equipment refurbishment. Many of the products that Jenco produces are one-off, custom specialty projects. Using the latest CAD technologies from Kubotek and cutting-edge manufacturing techniques allows Jenco to continue to become a premier leader in specialty applications.
Gregory Jensen, President of Jenco Metal Products says, "Our company has been using KeyCreator for well over 20 years. Since 1989, we have seen KeyCreator mature into a dynamic engineering design package that provides us with the flexibility to design products quickly in an extremely fast-paced environment."
Jensen adds, "Kubotek develops their products with the user in mind. In fact, many of the productivity tools that we thought would decrease our engineering and manufacturing times have been incorporated into the product without having asked for them—a true testament to Kubotek's forward thinking strategy."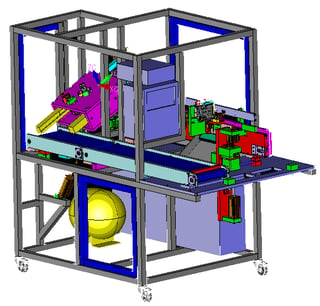 The model shown to the right is an example of a machine designed and built by Jenco. The machine resides in a manufacturing cell and is used for a two-stage assembly process. The first stage is an assembly operation where all parts are inspected and assembled. The parts are then placed on a conveyor where further inspection (and rejection, if required) is performed. Parts that pass this inspection move on and are assembled in a separate tool. The second stage involves placing the assembled parts back into this machine to be leak tested.
Jenco started this project by creating a preliminary rough layout for a system in KeyCreator. KeyCreator allowed them to achieve a concise 3D visual representation of the final product—something that also aided them in the quotation process. Additionally, KeyCreator allowed Jenco to further assess the details of the machine and communicate the details to the customer in real time. "The first time our customer had seen KeyCreator was during our design review," says Jenson. He adds, "They were very impressed by what they saw. Having the ability to make changes during the conversation was valuable to the customer. We were able to react instantly rather than having to deal with clumsy history trees. One of our customer's manufacturing engineers asked his engineer 'Can we do that with our system?'"
Jenson continues, "One of the things that make KeyCreator successful in our organization is the ability of the system to let ideas evolve. All our products are designed as solids. Being able to create a 2D drawing quickly, however, helps us communicate better, especially during initial design meetings. KeyCreator's flexibility makes it simple for us to come up with a concept and present it to our customers. We can quickly run the design through several iterations, incorporating the customer's input, as well as our own ideas. We use KeyCreator both as a communication tool and a design tool. This helps us provide the customer with the most refined, well thought-out solution possible in a very short period of time."