When you are a company known for providing technological advantage, you better have technology that you believe in.
For Basilius, leveraging technological advantages is especially valuable as they compete in three different business categories: high-volume injection molding, the creation and repair of custom molds and mold tooling, and as a CNC / precision machining shop.
To continue serving customer needs when those needs can vary so greatly across these three businesses, Basilius has kept itself at the forefront by investing in technologies that meet evolving market demands for efficiency and precision. Yet despite decades of changing with the technological times, one tool they have kept as part of their toolkit over the years has been KeyCreator.
Basilius has been in business long before the advent of technologies like CAD or CNC — for more than 70 years, this family-owned business has been finding creative, technology-driven solutions for customers. With roots in the injection mold segment of the automotive industry, their commitment to solving customer challenges has led to their continual innovation and adoption of advanced technologies. In turn, they now serve clients across numerous industries, including military, industrial, medical, and consumer products as a full-service solutions provider. To have the flexibility to develop one-off custom tooling as well as producing high-volume production runs, the flexibility and versatility of KeyCreator makes it a perfect partner.
"Sometimes we get 20-year-old drawings or outdated or corrupted CAD files. Processing these kinds of jobs is not plug-and-play. KeyCreator has a range of usability that helps us keep these jobs running smoothly."
— Cody Keiser, Vice President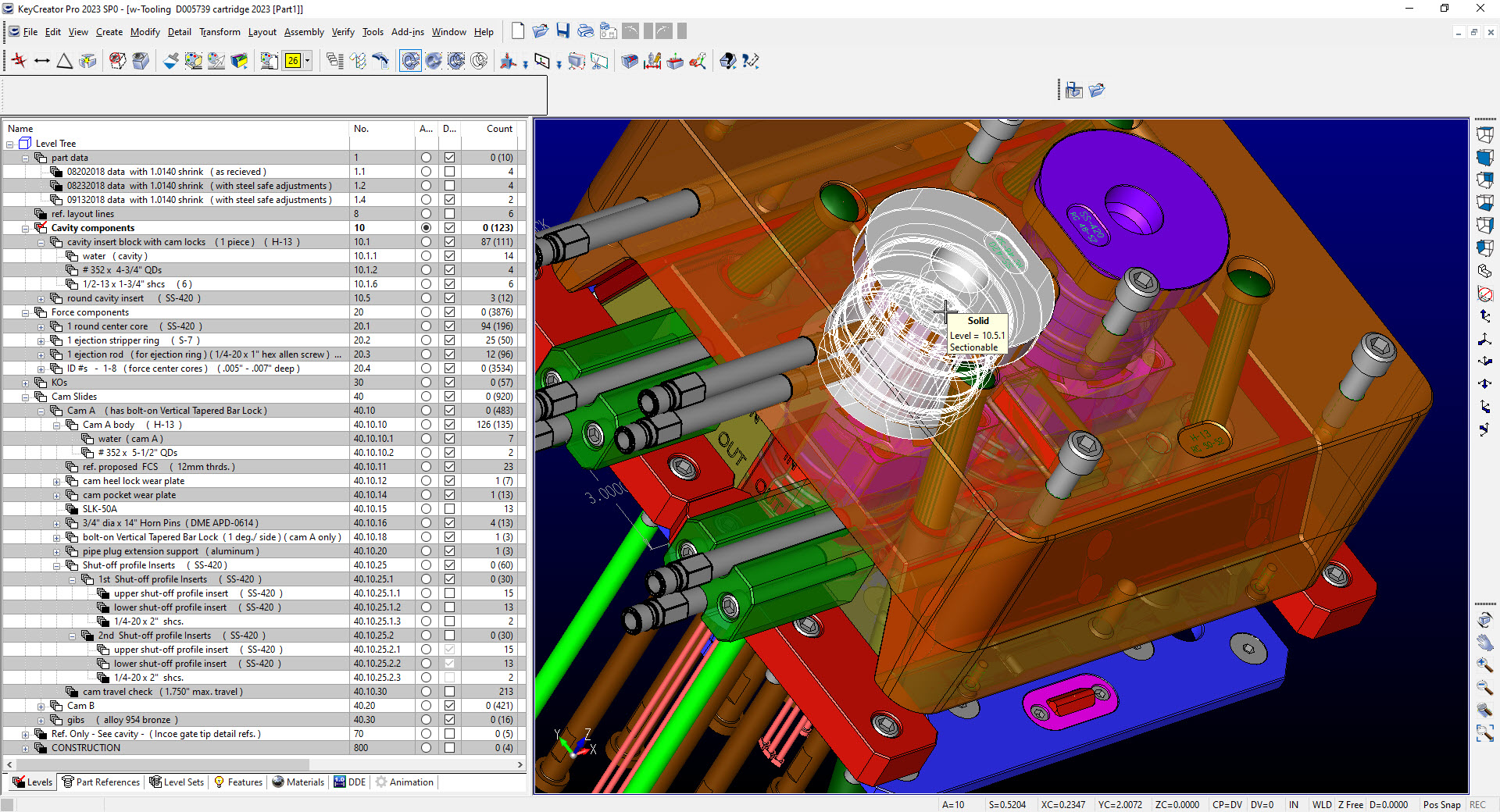 Basilius engineers managed this consumer product injection mold design using a flexible combination of 3D solids, surfaces, wireframe and annotations.
Because KeyCreator has been a pioneer in direct modeling, from the very beginning it has freed users from the cumbersome history functions typical of mainstream parametric modelers. With direct modeling, it's easy to make working, solid models from incomplete data sets that might arise during translation from a legacy set of data or drawings. This eliminates the need for third-party software to repair bad or incomplete CAD data when handling a corrupted or obsolete customer file. KeyCreator lets Cody's team quickly get the part geometry where they need it in order to keep the project on-track and moving through production.
However it's not just time lost managing faulty CAD data that KeyCreator helps Basilius counteract. A constant challenge in the mold-making industry is the need for modifications based on the physical constraints of the material and a specific mold's dimensions. For instance, if a molded part is thin it may take greater pressure to inject the material so that it fully forms to the mold cavity than if the molded part had greater volume. In turn this may call for the mold to be reinforced to withstand the pressure necessary to keep the injected material from leaking out. This process of adjusting mold design is a snap with KeyCreator's direct modeling, particularly in comparison to the laborious process involved trying to keep up with this continual adjustment process with parametric modeling.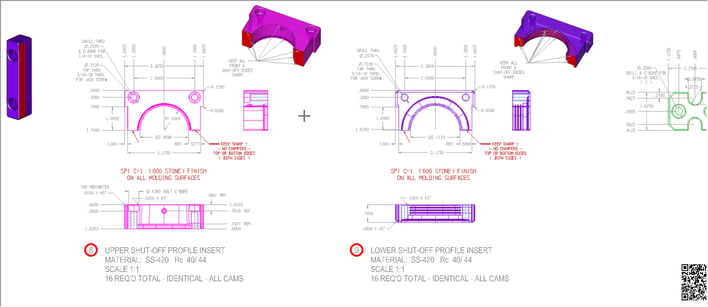 Associative detail drawings of custom components frequently include shaded images for clarity.
Basilius CAM operators/NC programmers are able to use KeyCreator's broad translator library to read customer models from other platforms and save what they need to STEP in order to read into their CAM software. These are just some of the ways KeyCreator is strongly aligned with the kind of versatility Basilius counts on to serve its customers.
The ability to adapt to less-than-ideal scenarios has helped Basilius serve other business in the injection molding segment when they have broken or damaged molds. In some cases, the original drawing or CAD file for that mold may be decades old. At times, Cody's team may have to reverse engineer the model entirely from scratch: a relatively efficient process with KeyCreator's direct modeling, a nightmare task to undertake with a parametric modeler.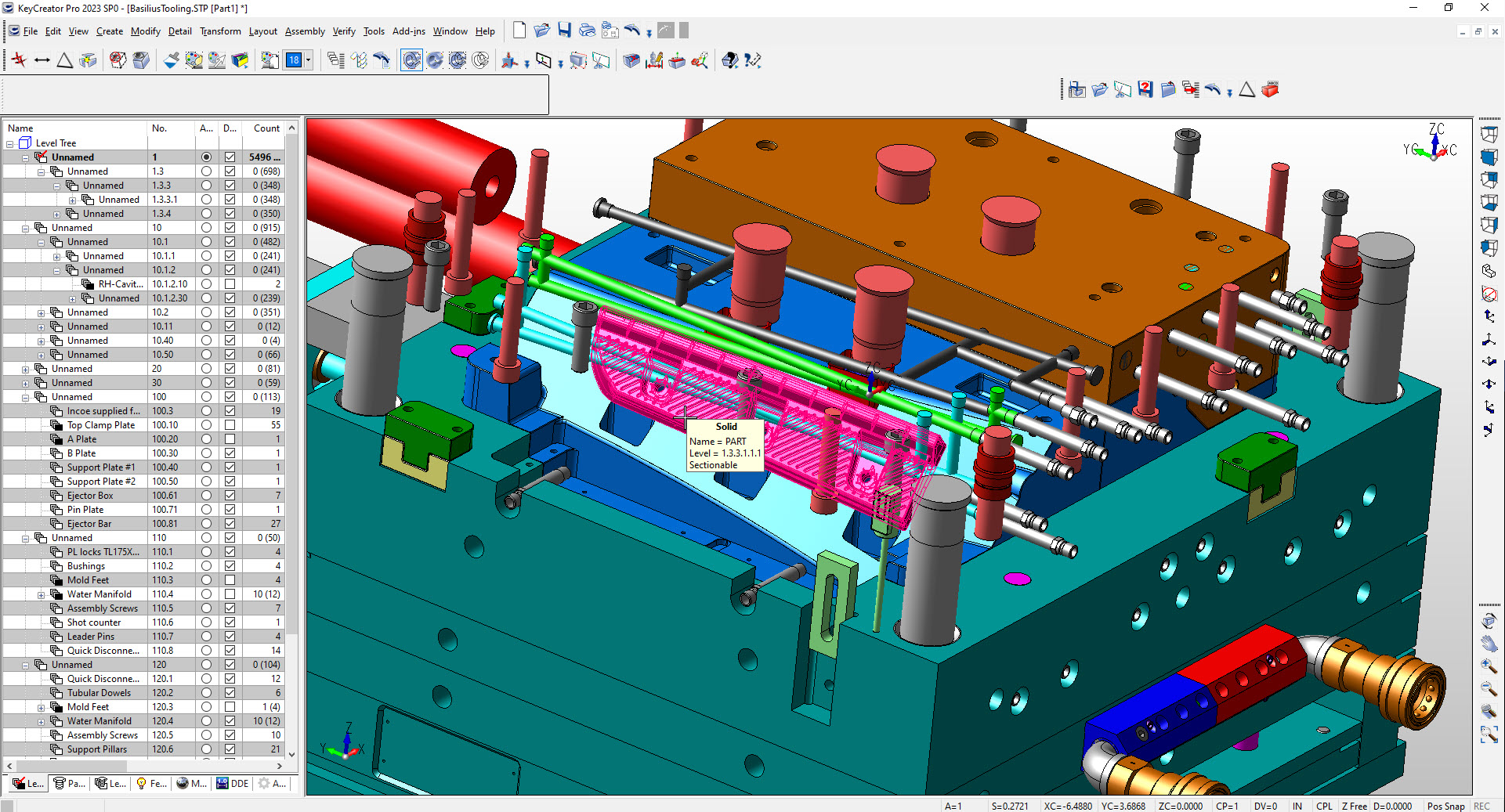 The thousands of components in this automotive injection mold design are organized on 8 levels divided with 181 sub-levels, nested up to 5 branches deep.
This is something Cody learned firsthand, as part of the Basilius values of always seeking the best technological solutions for their customers. As the business experienced different ebbs and flows of the broader economy, part of challenging themselves to always perform at their best included trying other CAD platforms.
"When we get clean solid data, parametric software worked well, but we found that often the data we receive is damaged which tends to break parametric software. This is the major reason we have stayed with KeyCreator so long, for its ability to efficiently work with real world data."
Because they serve clients from across different industries, being able to react quickly to the unexpected — or even try the unprecedented — is a resource Basilius relies on nearly every business day. This can be especially advantageous in the lifecycle of a high-volume injection molding project that begins with a custom or modified design. With the versatility of KeyCreator and the all-under-one-roof technological solutions that Basilius has built for itself, they are able to get projects up and running and through to completion on timelines that are 20+% faster than the typical industry expectation.
Over the years, this reputation for being able to handle projects where one-size-fits-all solutions just won't cut it has played a role in the company's growth. Basilius is now known for the place to turn where a complete range of service from prototyping to mass production can all be found under one roof. We are excited that KeyCreator has been an integral part of this success and can't wait to see what Cody and his team take on next.